A September 10, 2013 article on the U-T San Diego news portal explores the prevention of joint injury through exercise. By performing the right exercises, individuals can avoid suffering bad posture and stiff muscles caused by strain, inactivity or stress. The article takes helpful hints from medical experts on how exercise can lessen joint pain, as seen in this passage: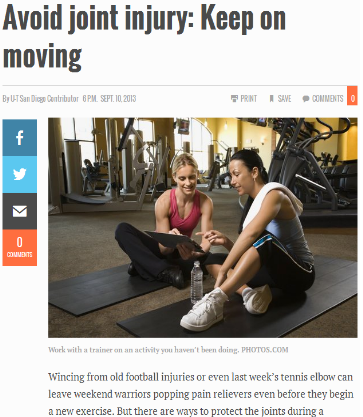 "It is critical to work with a trainer or therapist by recruiting them when doing physical exercise," Hoenecke said. "For an activity you haven't been doing, you should work with a trainer who will find out if this is something you are prepared to do or should do at all."
Hoenecke suggests strengthening the core, looking for soft landing spots (as opposed to hard-impact surfaces), and proper posture can protect the joints from injury.
"Proper shoe wear also helps maintain proper alignment," he said.
According to the Mayo Clinic, any movement, no matter how small, can help prepare joints for exercise.
Range-of-motion exercises, strengthening exercises and aerobic exercises contribute to overall health including healthy joints.
More gentle forms of exercise, such as tai chi or yoga, are also beneficial to the muscles and joints, the Mayo Clinic advises.
One of the outlined suggestions in the passage above is that exercisers should confer with a trainer. Trainers aren't just there to boost the confidence of exercisers; they also serve as helpful guides and consultants for those looking to perform their workouts correctly and efficiently. Hence, all those who want to get the most out of their exercise should undergo expert personal training in San Diego and other cities.
The body's muscles need to "warm up" before entering into any intense physical activity; this applies to both sports and exercise. Warming up before strenuous activities decreases the likelihood of painful and debilitating muscle pulls caused by inflexible ligaments. In theory, religious practice of warm ups during exercise should condition the body to be more flexible for both exercise and sports.
For proper warm ups and muscle conditioning, exercise participants can approach an experienced San Diego fitness trainer from True Balance for guidance. A trainer's knowledge of correct exercise form can prove to be an invaluable resource. Having a trainer nearby will also reduce the risks of injury, since the expert can warn exercise participants of potential dangers.
(Avoid joint injury: Keep on moving, U-T San Diego, September 10, 2013)