Legend has it that Milo—the famous athlete from Greek mythology—trained by carrying a young calf on his back until it was fully grown. People no longer train that way these days, but they do still use the same approach that Milo used—strength training. According to experts, strength training is primarily an exercise with the goal of increasing physical strength.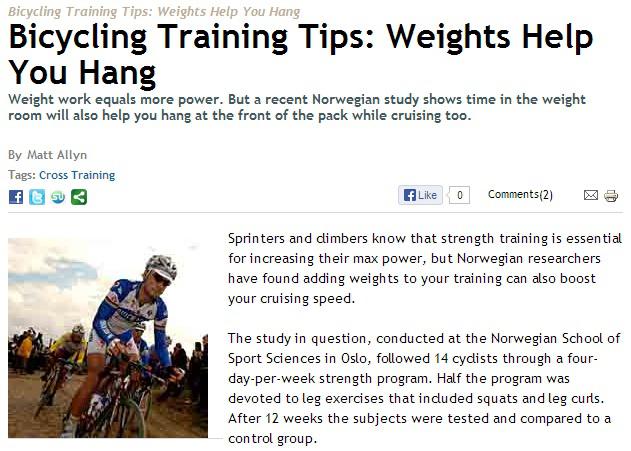 Runners, weightlifters, and contact sports athletes in America's Finest City have long known that strength training is necessary to increase their max power, that's why San Diego personal training programs are so popular. However, it turns out that cyclists can benefit from strength training as well, as reported by a Norwegian study. Bicycling.com provides more info:
"The study, conducted at the Norwegian School of Sport Sciences in Oslo, followed 14 cyclists through a four-day-per-week strength program. Half the program was devoted to leg exercises that included squats and leg curls. After 12 weeks the subjects were tested and compared to a control group.

The control group remained unchanged, but the training group had boosted their one-repetition squat by 20 percent and their leg curl by 12. The researchers then compared how much energy the cyclists needed to pedal at near 40 percent of their maximum power (roughly the same wattage you'd use on a long ride) and found that the training group's heart rate had dropped seven beats per minute and that they used three-percent less energy and oxygen."
Why did the training group's performance improve, you may ask? Simple: They got stronger. More strength means more force can be generated, which directly results in greater power output. According to a training expert, it's likely the athletes in the training group learned how to better control their muscles through strength training, which helps their movements become more efficient.
Strength training is an essential part of body conditioning. The body has over 600 muscles, and the primary function of each is to allow the different parts of the body to move. The stronger an athlete's muscles are, the faster the run, the higher the jump, the harder the hit, the further the throw/kick, and the longer the ride. It's that basic.
If you're training for a cycling race, don't just spin your wheels, hit the gym as well. Work with a San Diego fitness trainer like Andrea King at True Balance Fitness to power up your performance.
(Article Excerpt and Image from Bicycling training tips: weights help you hang, Bicycling)