It's healthy in a number of ways to fantasize about sporting a lithe frame of the kind you see in Hollywood actors. Sunny Pepper of the Examiner news website has one such example: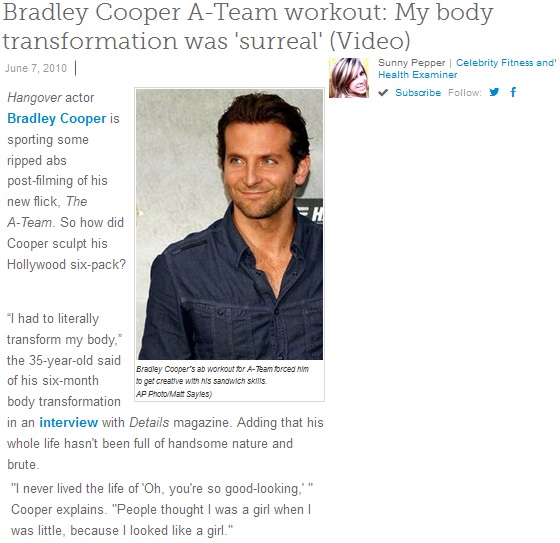 Hangover actor Bradley Cooper is sporting some ripped abs post-filming of his new flick, The A-Team. So how did Cooper sculpt his Hollywood six-pack?
"I had to literally transform my body," the 35-year-old said of his six-month body transformation in an interview with Details magazine. Adding that his whole life hasn't been full of handsome nature and brute.
"I never lived the life of 'Oh, you're so good-looking,' " Cooper explains. "People thought I was a girl when I was little, because I looked like a girl."
The popular actor's determination to look good and feel great may resonate with health-conscious people in San Diego, CA. The long beach all the way down to Mexico, and good clear weather all year round, is more than enough incentive for people to go out and break a sweat. With Los Angeles a couple of hours north, it can be a breeze to learn about how celebrities stay in shape, especially if their location shoots include San Diego. A look at your favorite celebrity's buff frame may give you some ideas when you're consulting a San Diego personal training expert like Andrea King of True Balance for proper body conditioning.
Cooper's role in A-Team – sweet-talking con artist Templeton "Face" Peck – required six months of preparation across different regimes. For cardio, he used the so-called "321" system in which he made three cardio circuits, two strength training circuits and one core circuit, each at ten minutes. Cooper also made runs on a popular mountain speed-hiking trail outside Vancouver, Canada – which he did within 45 minutes.
The exercises, which your trainer will program, may range from deadlifts, pushups, to French twists for the core, plus 50-yard sprints. A San Diego fitness trainer will factor in some changes to your eating options to further enhance your body shape and shed enough weight.
Cooper's program involved plenty of water intake and a high-protein, low-calorie diet, eliminating anything with sugar, salt, and flour. The diet included fresh meat and fish, plus egg whites. He had to shun alcohol to wake up early for the training and the shoot.
Even if you may not appear before the camera soon, taking a cue from your favorite stars is one way to motivate yourself to achieve a better body.
(Article Excerpt and Image from Bradley Cooper A-Team workout: My body transformation was 'surreal', Examiner)