Being a new mom is a real struggle, and so is losing the weight you gain during the pregnancy. As this article from Yahoo! Voices notes, medical science offers a clue as to why losing the "mommy bulge" is so difficult:
"Stress
Becoming a mother responsible for the life of another being is unquestionably an exciting, yet stressful situation. Many new mothers and even mothers having subsequent children find themselves under a great deal of stress just caring for their children.

Stress triggers a chemical reaction in the body hardwired from ancient times when stress usually meant mortal peril. The response releases a certain hormones including cortisol that can increase appetite and cause the body to store more fat around the mid-section, which also happens to be where most postpartum mothers have that lovely mom pouch. Many women also have formed a behavior tendency to eat in reaction to stress and may not even notice they are doing so."
Of course, the body has to gain weight to sustain both you and your baby, but unfortunately, many women never lose the 25-35 pounds they put on. Thankfully, those frustrated by the weight can rely on San Diego personal training experts like Andrea King of True Balance.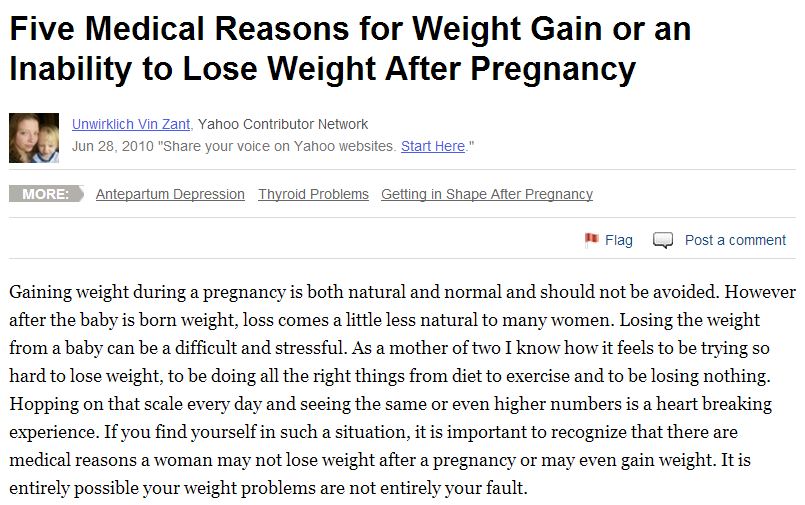 A San Diego fitness trainer evaluates your fitness level and develops a custom-designed workout program that maximizes your weight loss. Furthermore, they will coach you on proper eating habits to help you achieve your fitness goals.
Admittedly, prioritizing weight loss is hard when you have a newborn at home. Remember that the healthier you are, the better you can take care of your baby.
(Source: Five Medical Reasons for Weight Gain or an Inability to Lose Weight After Pregnancy, Yahoo! Voices, June 28, 2010)